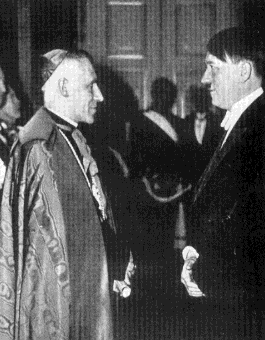 The PC MC paradigm is, to use one of many metaphors, an edifice of a thousand bricks.
One of those bricks is the blithely apodictic assumption that Pope Pius XII -- the Pope during the years of World War Two -- at best countenanced, and at worst colluded with, Hitler.
There's a book that definitively refutes this:
The Pius war: responses to the critics of Pius XII
(2004), by J. Bottum and (it should be noted, Rabbi) David G. Dalin.
Not only do the authors definitively refute that canard, they interestingly delve into the complex sociocultural phenomenon of the construction of the myth itself, which spanned quite a few years.
Here's a taste, of the solid evidence Rabbi Dalin brings to the table to refute that (all too commonly believed) canard:

"Curiously, nearly everyone pressing this line today -- from the ex-seminarians John Cornwell and Gary Wills -- to the ex-priest James Carroll -- is a lapsed or angry Catholic. For Jewish leaders of a previous generation, this campaign against Pius XII would have been a source of shock. During and after the war, many well-known Jews -- Albert Einstein, Golda Meir, Moshe Sharrett, Isaac Herzog, and innumerable others -- publicly expressed their gratitude to Pius. In his 1967 book Three Popes and the Jews, the diplomat Pinchas Lapide (who served as Israeli consul in Milan and interviewed Italian Holocaust survivors) declared the Church under Pius "was instrumental in saving at least 700,000, but probably as many as 860,000 Jews from certain death at Nazi hands." (chapter 1, "Pius XII and the Jews", p. 14).
There's much more, easily enough to destroy that silly myth. And incidentally, the Introduction by Joseph Bottum to that book provides a helpful overview of the development of the revisionist myth itself over the past few decades.
Note: Google Books (see the link above) provides a free sampling of the Introduction and Chapter One in their entirety, and also a good deal of many of the other essays.
Further Reading:
An excellent analytical review of a book (
The Popes against the Jews
) by a typically perverse anti-Catholic modern historian, David Kertzer, by the above-mentioned David Dalin:
Popes and Jews; Truths and Falsehoods in the history of Catholic-Jewish relations
.