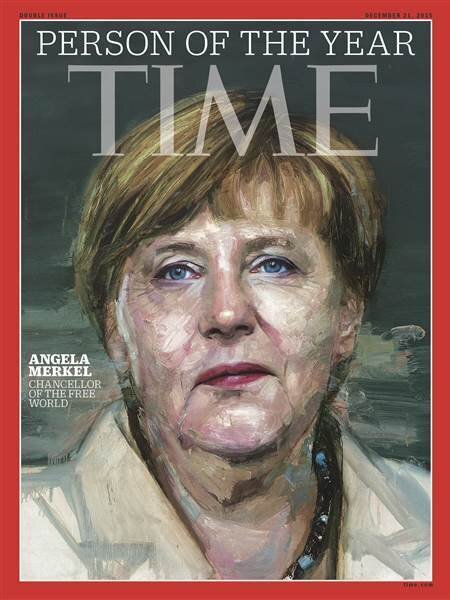 My photographic feature in today's essay -- juxtaposing the recent tribute to Angela Merkel by TIME magazine with the one they published in 1938 of Adolf Hitler -- may seem alarmist, and Heaven knows all sorts of conspiracy-theory associations could, and would, be assumed about me on that basis alone. My 17.5 readers know me well enough, however, to dispel such goings-there.
The message I wish to convey in expatiating on these two images is subtler than the
quasi-Breivikian
hammer which seems so common (albeit incoherently milder) in the Counter-Jihad as a crude tool to deal with the thorny problems radiating out of Islam. First off, everyone knows (or should know) that when TIME magazine has chosen someone to display as "Person of the Year" (a PC spasm where in the good old days they had no qualms calling it "Man of the Year"), the honoree is not always being
honored
warmly; as TIME magazine explained their Adolf Hitler cover, they were merely acknowledging someone who up to that point had changed history -- for good or ill. So TIME magazine should not be faulted for displaying Adolf in '38 in that critical spirit; but should be faulted for genuinely and warmly honoring Angela in '15. For while the former was indeed a demon, the latter is no angel.
However, the message I wish to convey with my photographic juxtaposition is not that Angela Merkel represents a "new Hitler" in the same sense as the original, but an odd paradox fostered by PC MC -- with an effect almost of an artifact or optical illusion. To wit: Precisely because Merkel represents the "Never Again" mantra twisted by PC MC, the very same anti-Hitler stance she embodies (of the Left, of Communism, and of PC MC, all promiscuously bedfellows even though most of them don't realize it) is enabling another Hitler to rise -- the other Hitler of Hitler's actual ideological ally: Muslims.
In a recent
essay
on the TIME tribute to Merkel, and contrasting it to the actual
Argumentum ad Hitlerem
insinuations by the mainstream against Trump, Diana West writes:
...Hitler and Islam do mesh well, although for reasons that have nothing to do with counter-jihad measures of immigration control as advocated by Donald Trump, Geert Wilders and other Western leaders intent on saving the West in this latest historical cycle of expansionist Islam.
What Diana West is noticing there is this paradox unfolding in action in various ways throughout our West as it confronts the metastasizing problem of Islam in our time -- or rather, as it avoids having to confront it by going into yoga pretzels of logic, resulting in demonizing as the New Hitler all the "Islamophobic" critics of the
Real
New Hitler: the followers of Islam.
Now, with a Merkel, with her East German Communist past, we are evidently not dealing with a garden-variety PC MC, but with a full-blown Leftist if not one whose ideological past still informs her idealism. Even she could be a starry-eyed idealist, however (but then, many enablers of Stalin's horrors were starry-eyed idealists too, and the line between sincerely starry-eyed admiration and actual collusion can become blurry, even if we must exercise caution & casuistry here to make distinctions we would not make with Mohammedans).
֍ ֍ ֍ ֍ ֍
It's about time Merkel got a fitting tribute as did old Adolf of yesteryear; but a mainstream organ like TIME is not the one about to do it -- other than with a colossal display of unintended irony.
Further Reading:
We're still fighting World War 2
Hitler and Islam