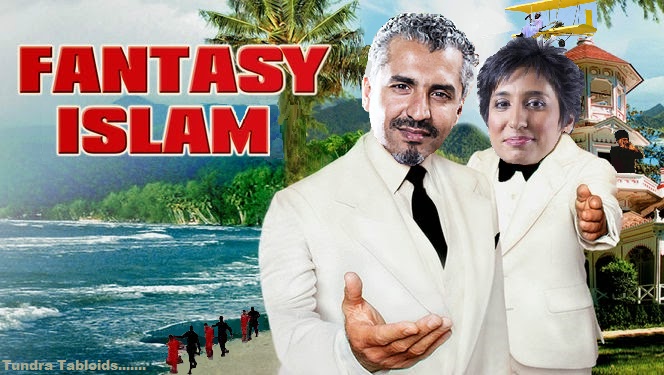 The mainstream to which I refer is the Counter-Jihad Mainstream, not the broader Western Mainstream which the Counter-Jihad Mainstream is always complaining about.
As I pointed out in my last article,
Maajid Nawaz is a "freedom fighter" according to Robert Spencer
(and in the article previous to that which I link therein), although Spencer complains about Nawaz mainly for being or for implying a selective outrage at the SPLC hit list, Spencer more importantly is granting Nawaz Counter-Jihad Cred by including him as one of the "freedom fighters" (and for treating him at face value as a reformist when he should be treated as a clever stealth jihadist).
Now along comes a new posting by Spencer, where he continues to complain about Nawaz for the less important reason:
Meanwhile, Maajid Nawaz himself is whining repeatedly and in self-contradictory fashion about how lists such as the SPLC's ought not to be compiled, and how dreadful it is to be included on it with Pamela Geller, whom he clearly thinks deserves the "anti-Muslim extremist" designation for crimes such as opposing the Ground Zero Mosque and supporting resistance to Islamization in Britain.
In this context, Spencer then praises and showcases an Iranian "ex-Muslim" who has written a clever open letter to SPLC. Aside from a couple of instances of English problems, it's a very well-written letter by Kaveh Mousavi (a pseudonym for fear of his life). However, it's ruined by the fact that Mousavi believes in moderate Muslims in Iran capable of reforming Iran. A casual and brief examination of Mousavi's own blog, "On the Margin of Error," reveals that it's much worse than that. In his related posting there titled
Shame On You, Southern Poverty Law Center
, he blurts out things like this:
SPLC has published a list of "Anti-Muslim extremists" which includes Maajid Nawaz and Ayan Hirsi Ali among some really awful people like Robert Spencer, David Horowitz, and Pamela Geller.
Then, when Mousavi muses about Ayaan Hirsi Ali, he nuances all over the place, but the underlying problem (for those who can see it) is unmistakable:
While I firmly believe she is a very important voice that shouldn't be ignored, and while I think reading her quotes in context would show that when she used to say things like "there are no moderate Muslims" would show that ultimately her positions do not mean to paint all Muslims as bad (she has gotten much better at communicating nuance recently), I could be charitable and consider this an example of poor research.
After getting through expressing his suspicions of the dubious Hirsi Ali (lending her a backhanded compliment -- as long as she's really a non-hater and didn't really mean her lack of "nuance"), he has nothing but parade whistles and green lights to hail the truly dubious Maajid Nawaz:
But there's no excuse when it comes to Nawaz. This is simply atrocious. This is simply poor arguments, and it simply equates being critical of Islam as being an anti-Muslim "extremist". Nawaz is a Muslim himself, he is just an honest and ethical reformist who prioritizes reforming Islam over "saving face" for Islam.
Spencer seems to be so anxious to pillory the SPLC for daring to put him and Pam Geller on the list, he reaches out to showcase someone as shady as Kousavi.
While I firmly believe she is a very important voice that shouldn't be ignored, and while I think reading her quotes in context would show that when she used to say things like "there are no moderate Muslims" would show that ultimately her positions do not mean to paint all Muslims as bad (she has gotten much better at communicating nuance recently), I could be charitable and consider this an example of poor research. - See more at: http://www.patheos.com/blogs/marginoferr/2016/10/28/shame-on-you-southern-poverty-law-center/#sthash.BrDzb3UP.dpuf
SPLC has published a list of "Anti-Muslim extremists" which includes Maajid Nawaz and Ayan Hirsi Ali among some really awful people like Robert Spencer, David Horowitz, and Pamela Geller. - See more at: http://www.patheos.com/blogs/marginoferr/2016/10/28/shame-on-you-southern-poverty-law-center/#sthash.BrDzb3UP.dpuf
SPLC has published a list of "Anti-Muslim extremists" which includes Maajid Nawaz and Ayan Hirsi Ali among some really awful people like Robert Spencer, David Horowitz, and Pamela Geller. - See more at: http://www.patheos.com/blogs/marginoferr/2016/10/28/shame-on-you-southern-poverty-law-center/#sthash.BrDzb3UP.dpuf
SPLC has published a list of "Anti-Muslim extremists" which includes Maajid Nawaz and Ayan Hirsi Ali among some really awful people like Robert Spencer, David Horowitz, and Pamela Geller. - See more at: http://www.patheos.com/blogs/marginoferr/2016/10/28/shame-on-you-southern-poverty-law-center/#sthash.BrDzb3UP.dpuf
SPLC has published a list of "Anti-Muslim extremists" which includes Maajid Nawaz and Ayan Hirsi Ali among some really awful people like Robert Spencer, David Horowitz, and Pamela Geller. - See more at: http://www.patheos.com/blogs/marginoferr/2016/10/28/shame-on-you-southern-poverty-law-center/#sthash.BrDzb3UP.dpuf