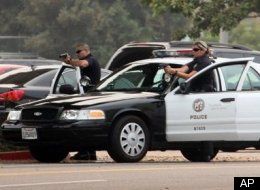 One historical source of the PC MC distaste for the word
savages
-- the judgement on the white (and European) American past with regard to its treatment of the "Native Americans" (i.e., Injun savages), which has been deemed to have been -- even in public school and college curricula, let alone TV specials, celebrity dyspepsia, and various remarks and policies by politicians over the past few decades -- racist and tantamount to genocidal, and, of course, "shameful".
This came to mind because of a
recent
ABC interview with Pam Geller about her organization's sponsorship of posters referring to jihadists as "savages"; an interview
in which an unremarkably typical PC-MC Christian (yes, those two are, unfortunately, commonly combined throughout the West, since that's just how widespread PC MC is in Western societies), Jim Wallis in his role as the "alternative viewpoint" in the interview (as though a news program cannot interview Pam Geller by herself, they must always have someone on hand -- preferrably an "expert" -- to put her "Islamophobia" in "perspective"); where the ABC host is no better than Wallis: both of them assuming by implication that by "savages" Geller was referring to "all Muslims". (Whether she should do what they persist in accusing her and other activists in the Counter-Jihad of -- even though all them protest, anxiously, that they are not "painting with a broad brush" -- is another matter.)

However, I'd venture to say this problem runs deeper and more broadly, to a general Western antipathy toward its own Colonialism in general which, for a good 300 years, so the revisionist history goes, "raped" the poor innocent Third World Noble Savages from Pacific Sea to shining Caribbean and everywhere in between.

The word "savages" pushes a very sensitive subliminal button for the PC MC Westerner -- it arouses and reminds him of his "shame" at his own West's past, which still may erupt at any minute, unless suppressed vigorously -- first and foremost, in one's own mind, if you are a White Man, you have a natural tendency to think ugly racist thought crimes against any Non-White, and you must suppress those thoughts, you must be your own Policeman. And millions of Westerners have done this quite dutifully over the past 60-years.

Thus: Our PC MC West hasn't really needed to change laws, per se, to enforce these Two Commandments --

"Thou Shalt Feel Ashamed at Thine Own Western Heritage Which Harbors Inherent Racism Against the Non-White Non-Western Other"

and

"Thou Shalt Respect the Non-White Non-Western Other No Matter What He Does and No Matter What His Culture Teaches, Otherwise Thou Shalt Be Guilty of Racism"

-- because these Commandments have become internalized into the hearts and minds of the majority throughout the West over the past 60-odd years.

I.e.:

The West Self-Polices its own politically correct multi-culturalism.
Secondly, however, that's of course not good enough, because there are too many whites around us in the West who show signs of not loving Big Brother enough, and so they must be suppressed, punished, censured, among other techniques using, as Hillary Clinton
said recently
, "some old-fashioned techniques of peer pressure and shaming, so that people don't feel that they have the support to do what we abhor."
This hasn't been that big of a problem thus far, when factoring in certain putatively non-white minorities (though this is not to deny the problems that have popped up now and then with regard to blacks, for example).
However, a new wrinkle has been devolving over the past 20 years, and most acutely in the post-911 decade: the designated #1 Non-White Non-Western Other, the Muslims, the
Mother of all Others
(effectively designated as such by the PC MC), have been misbehaving so much around the world, they are putting an enormous strain on the PC MC psyche, and on the PC MC paradigm (same difference, really).
I mean, even a PC MC can keep up the denial only so long, as Muslims keep rioting, torching, exploding, stabbing, and communicating hateful and violence-laden intolerance through speeches, sermons, lectures, debates, papers, Internet sites, public demonstration signs, etc. -- before the PC MC realizes, even if only semi-consciously, that the Self-Policing is showing signs of stress around the edges and incipient, ominous spidercracks with signs of water seeping through that may portend danger to the whole structure of the paradigm. So the PC MC now, particularly with this latest devolution in the wake of the Mohammed movie riots and official Muslim calls for criminalization of blasphemy, has been seriously flirting with adding on to the Self-Police an external law that would punish what is getting out hand.

Of course, the PC MC cannot compute that only Muslims are to blame for this getting out of hand -- for, to be able to compute that, the PC MC must re-wire and re-configure his entire software, and without such a radical overhaul, the PC MC's brain, in trying to process such a thought, would snap, crackle, pop, fizzle and begin to smoke, before imploding.